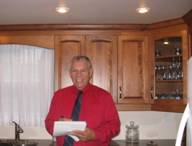 The purchase of a home is most likely the biggest single investment you'll make in your lifetime. We provide you with the information you need that will help you make a wise investment choice.
A professional home inspection is your best tool when it comes to making the most of your home investment. Whether you are buying or selling, an objective professional inspection will provide you with information that you can use.
Home inspection being done by one of our inspectors
Our professional services include:
Pre-purchase Home Inspections;
Pre-listing Home Inspections;
Home Condition Reports;
Building Defect Inspections;
Problem Investigation Inspections;
Tenant Landlord Dispute Inspections
In our non-destructive home inspection we cover the following:
STRUCTURAL SYSTEMS: including foundations, wall, floor, and roof structures;
EXTERIOR: including exterior finishes, decks, eaves and soffits, grading, driveways, and walkways;
ROOF SYSTEMS: including roof covering, roof drainage, flashings, and skylights;
PLUMBING SYSTEMS: including interior supply/distribution, water heaters, vent systems, and drainage;
ELECTRICAL SYSTEMS: including service drops, entrance conductors, panels, grounding and a representative number of lights and outlets;
HEATING SYSTEMS: including installed heating equipment, vent systems, and energy source;
AIR CONDITIONING SYSTEMS: including installed central cooling equipment;
INTERIOR: Including walls, ceilings, floors, steps, stairways, doors, and windows;
INSULATION and VENTILATION: including insulation and vapor retarders in unfinished spaces and ventilation of attics and foundations; and
INFRARED (THERMAL) SCANNING is offered as an option.
For Buyers
You want as much information as possible about the home you are considering for purchase, and a comprehensive home inspection offers important protection for your investment.
Our inspection evaluates home safety, structural and mechanical soundness. We look for any risk to your family's health. We identify potential maintenance issues and help eliminate unwelcome surprises.
For Sellers
Our home inspection gives you a powerful marketing tool to set your home apart. We point out repairs that you may wish to make before you put your home up for sale. A pre-sale inspection can be your competitive edge when it comes to offering the buyer greater peace of mind.